May 30, 2018 by
admin
·
Comments Off

on Saint Laurent's midnight nappa leather Monogram
Filed under:
Uncategorized
The history of Yves Saint Laurent and Christian Dior fashion houses are closely interwoven, in fact Saint Laurent was recognized by Dior for his amazing design talent at the tender age of just 18. He spent several years under the watchful eye of Christian Dior himself and by the age of 21 unexpectedly became the head of Christian Dior.Later in life Yves Saint Laurent went on to create his very own Fashion Empire and has since been known as one the greatest ever names in fashion. His bags were famed for a Paris like chic feel with beautifully soft leathers with exceptional detailing, but also a modern vibe with chunky chains as handles and straps. An eclectic mix of style which is undoubtedly Saint Laurent yet is often copied by other designers.
Saint Laurent's midnight nappa leather Monogram Blogger mini-bag is detailed with polished goldtone hardware. This style features the initials of house founder Yves Saint Laurent in a logo designed for the brand by the artist Cassandre in 1961.
Yves Henri Donat Mathieu-Saint-Laurent  1 August 1936 – 1 June 2008),professionally known as Yves Saint-Laurent, was a French fashion designer who, in 1961, founded his eponymous fashion label. He is regarded as being among the foremost fashion designers in the twentieth century.In 1985, Caroline Rennolds Milbank wrote, "The most consistently celebrated and influential designer of the past twenty-five years, Yves Saint Laurent can be credited with both spurring the couture's rise from its 1960s ashes and with finally rendering ready-to-wear reputable." He was able to adapt his style to accommodate the changes in fashion during that period. He approached fashion in a different perspective by wanting women to look comfortable yet elegant at the same time. He is also credited with having introduced the tuxedo suit for women and was known for his use of non-European cultural references, and non-white models
May 22, 2018 by
admin
·
Comments Off

on LOUIS VUITTON IS A REAL PIONEER IN THE FIELD OF INVENTING REDUNDANT WAYS OF MARKING
Filed under:
Louis Vuitton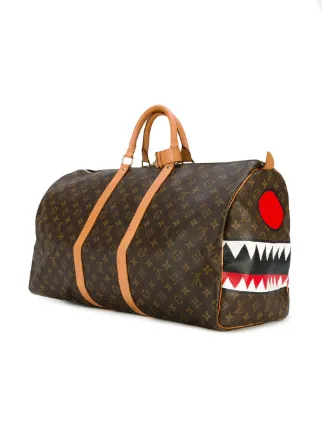 I will compare two pictures of the same Louis Vuitton model, one being the original bag and the other just a replica. You will notice from the start that the gold color is quite different. The replica has more of a rose gold color while every reference I found about the original LV metallic plate says that this needs to be yellow gold. Next, the wavy line should end with a complete and ascending curve whereas on the replica this final ascending curve is incomplete. And the most noticeable difference is the font and stamping of the text. The letters look very different in all ways. These have a whole other thickness, proportion and spacing. The overall aspect of the metallic plate is the one of an obvious fake one and it ruins the entire bag.
When considering buying a replica purse, you must know what to expect. Indeed, the price is affordable when comparing it to the real thing, but the quality may vary tremendously.
Are you passionate about Louis Vuitton handbags, but never could save enough money to buy one? This is one of our most common dilemmas. Why should we spend all our savings on a beautiful bag carrying an expensive brand name when we could buy an identical looking replica for far less money? Learn how to find the perfect copy of your favorite purse and make sure that from now on you will always acquire the bag you were craving for.
From my point of view, Louis Vuitton is a real pioneer in the field of inventing redundant ways of marking its products with the brand name, logo or initials. This very important quality is also what makes the LV bags so challenging to replicate. One of my favorite ways of stamping its purses with the company's credentials is by applying a metallic golden plate on the outside part. This metallic plate contains a very long and complex text: "DEPOSE EN FRANCE ET A L'ETRANGER LOUIS VUITTON INVENTEUR 101, avenue des Champs-Elysees, PARIS", written on 4 distinctive lines. Another important thing is that it will always be colored in a beautiful yellow gold and the four small screws will be marked with the Louis Vuitton name. So if you are looking to buy a bag that has this marking then make sure you verify it very carefully and that it truly is identical to the original one.
The material used in this beautiful top handle handbag is soft calf leather, making the bag extremely durable as well as pleasant to the touch. To add to the texture of the bag a different color piping was added to the stitching. This is a small and often overlooked detail, however, it makes for a much better look and sturdier feel.
This lovely pink top handle bag is a stunning piece of design and craftsmanship and a trademark of the high quality product that Miu Miu constantly puts out. The bag is a light shade of pink, making it ideal for any sort of casual occasion. You can wear it almost anywhere, from a casual run to the supermarket to brunch with friends or even to work if your workplace doesn't have too rigid dress rules set in place.The front pocket of the bag has a snap-lock closure, so you know your possessions are safely placed inside your bag. The clever snap-lock system also allows you to have easy access to whatever you're carrying in the bag so that you won't have to pause from what you are doing to open your bag, simply press and release.
The bag's measurements are 12.2 inches in length, 9.6 inches in height and 6.3 inches in depth. The inside of this medium to large bag offer a lot of cleverly designed space like some small zip and open pockets , where you can put away your tech gadgets, make-up wallet or anything else you might be carrying and not have to go through your entire bag to find them.
The Miu Miu logo is also cleverly and discretely embossed on the bag's bottom feet. This is a small detail that the owner of the bag will love without making too bold a statement like other giant logos place on the snap-lock. The hardware of the bag has a glossy gold finish that has been dulled down to not be ostentatiously shiny.