July 18, 2017 by
admin
·
Comments Off

on New Louis Vuitton New Bags-Cruise 2018 Runway Bag Collection
Filed under:
Louis Vuitton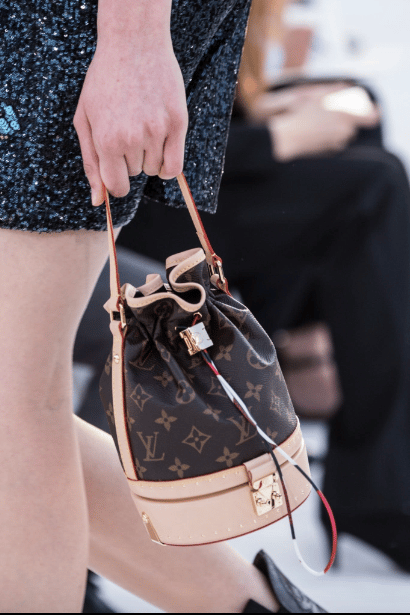 The Louis Vuitton Cruise 2018 Runway Bag Collection is the fashion God's love of Japan coming to life. Nicolas Ghesquière designed this set of Louis Vuitton new bags with only one thing in mind: japanese art and culture. Never have the flavors of Japan ever colored a range of bags in a captivating manner as Ghesquière's. And we could not be more jubilant! It is no secret that the master designer is in love with the Japanese culture. It is only fitting that he would dedicate an entire fashion range of Louis Vuitton bags to the mystical island.
On a first look, you would only see a wonderful medley of colors and patterns. But those with an eye for fashion and style would not fail to recognize the wonderful style. It is an unusual, yet captivating charm weaved into these bags. The great fashion house unveiled the Louis Vuitton new bags at Miho museum, an hour's drive from Tokyo. The collection features the typical Japanese themes such as Samurais, Manga, Kabuki, Obi belts. And, of course, the enchanting Japanese landscape. All were designed by the much-beloved Kansaï Yamamoto, with whom the Louis Vuitton designer has partnered up with.
If you know your handbags, you would be familiar with the traditional design of Louis Vuitton Speedy bags. That means sparse designs against a canvas of LV Monograms. There were a few Louis Vuitton speedy bags that sported this conventional pattern with Japanese-themed designs. Other bags had completely discarded tradition and done more bold, vivid Japanese patterns. The darker, sober colors of LV were seen to be replaced by the more bold colors of Japan.
How could LV leave behind entirely the typical, chocolate-brown LV Monogram canvas? This is the pattern that is the hallmark of Louis Vuitton bags. The Louis Vuitton new bags range also has plenty of bags, designed as per tradition. The LV Monogram canvas features on every type of bag. That means all the classics: Petite Malle Cases, Speedy Bags, Hat Box Bags, Hobo Bags and so on.
All in all, the Louis Vuitton Cruise 2018 Runway Bag Collection is a daring new reinvention. This is generally expected from an all new bag collection. Chanel and Dior's had stunning presentations of their captivating designs. After these Louis Vuitton had to do something to outdo expectations. Besides, it was a fitting tribute to the culture and history of Japan. As Ghesquière himself said, "Every cruise collection is a discovery and it's a game of integrating the culture of the country we are visiting with a point of view that is very French and Parisian.
Shoulder this effortless icon from Fendi today and everyday with the easygoing, timeless silhouette.
A classy hobo bag that will enable you to send a strong message to all around you, Fendi Zucca Hobo will soon become you daily companion because it offers any modern woman the elegance and style she wishes for together with the comfort and practicality she needs. This bag model by Fendi is meant to be a reliable accessory that suits your eye for trendy fashion items and your need for spacious bags at the same time.Fendi Zucca Hobo features the house's logo all over it, this being the statement you are making when wearing it. Combining brown leather with high quality canva, this bag will last as long as you want it to. It will not deceive you in any way and it will help you get through your busiest days. Inside it you will find nice compartments that allow you to carry along with you everything you need, from beauty products to essentials kit and work documents. No need for a second briefcase to make your days heavier when you have Fendi Zucca Hobo. Everything can fit inside it just fine.
A classic hobo silhouette in signature logo-jacquard fabric with rich leather trimmings.
Do you want to be elegant but to have all the things you need with you at the same time? Fendi Zucca Hobo is the solution the renowned Italian fashion house found for you. Without denting your elegance, you can now have a seizable bag that will simply last forever. Fendi Zucca Hobo is also the answer if you are looking for a nice present to offer to a woman who has everything. She may have anything else, but does she have a bag she is really satisfied with? Not many women can say that before they laid their hands on Fendi Zucca Hobo.
Synonymous with luxury and traditional craftsmanship, Gucci remains true to its signature aesthetic with the Bamboo bag collection. Imbued with the label's authentic Italian style, the Bamboo has become a design classic thanks to its contrasting bamboo handles. Made in Italy from leather, the structured design comes in an array of different colours and is stamped with the Gucci logo. Explore the collection of python shoulder bags, smooth leather totes and vibrant shoppers. The iconic bamboo accent also details zip-around wallets, purses and belts; making it even more effortless to work into your accessories line-up.
This Python New Bamboo Handbag is in great pre-owned condition. The handle is in good condition and includes a add on white/chain strap. The elegance and refinement you have always wanted to achieve comes in one single item, and this is the Gucci New Bamboo Python model. If you imagine a conservative looking snake leather patterned bag, you could not be further from the truth. The Italian fashion house has outdone its own name by creating this bag that stands out from the crowd and will certainly attract loads of compliments for you no matter the moment of the day when you decide to where it or the social occasion.
Perfectly suitable to accessorize your evening outfit or your business costume equally, Gucci New Bamboo Python will become your most valuable fashion accessory as well as one of your most reliable friends. As soon as you have it, you will not want to switch to other bags as this Gucci model fulfills all your dreams of elegance and style.  Its bamboo handle brings it the solidity it needs to carry everything you need all day round, but also a particular touch of style.
Are you an environment friendly person? You should know that bamboo is the most ecological raw material that can be used in a bag.
After this model was launched in the fall winter season of 2013, lots of celebrities have been seen adorning a Gucci New Bamboo Python in their hands and their style has never been doubted because of this python leather bag. So, adorning yourself with this jewel of a bag in your hands, you will be actually joining a successful line of women who chose Gucci as their icon fashion house when it comes to leather products, but also for other trendy items. Moreover, the New Bamboo comes with a Gucci quality warranty that you can certainly trust. Gucci New Bamboo Python will not disappoint you.